To the northwest of the island of Lombok, there are three small islands, commonly called Gili. In fact, the word "gili" means a small island in the language of the inhabitants of Lombok Sasak. So, the entire ridge of islands around (and there are more than 40) is called gili. But these three are very famous among tourists, and if they say "gili", then they have in mind exactly this three: Gili Trawangan, Gili Meno and Gili Air.
Gili Islands are very popular among travelers to Bali. Stunning nature, crystal clear water, relatively low population density, lack of police, diving. You can visit the Gili Islands on your own, as they have regular water links with Bali.
Location
The Gili archipelago or Tiga Gili in Indonesian (literally Three Gili) are located in the Balinese Sea very close to the large island of Lombok. But maritime communication with the island of Bali is much more developed than with Lombok. This is not surprising, because tourists from Bali visit the Gili Islands much more often than locals from Lombok. But at the same time, the administrative islands of Gili belong to the province of Western Nusa Tenggara, and not Bali.
Bali Island is located 35 kilometers west of Gili Trawangan. Both large neighbors Bali and Lombok are clearly visible from the Gili Islands in clear weather. Volcanoes and mountains on Bali are clearly visible from Gili. In addition, on the island of Lombok, the huge active volcano Rinjani, which is the second highest in all of Indonesia, is very visible. This volcano erupts very often, the last time it was in 2015.
Weather on Gili Islands
Despite the proximity to the large islands of Bali and Lombok, the weather on Gili is almost always different for the better (even in the rainy season). We were in Gili in January, at the peak of the rainy season, when Bali poured torrential rains daily. At that moment, Gili had clear sunny weather throughout our stay. High mountains on the neighboring southern islands of Bali and Lombok prevent the passage of clouds and protect Gili from rain.
The rainy season on the islands also exists and lasts from October to May. The average annual temperature is 28 degrees.
History of Gili Islands
Before the Second World War, almost no historical facts about the Gili Islands were preserved. However, it is known that during WW2, the Japanese used the Gili Islands as a stronghold and prison. The fortifications on Gili Trawangan and the military patrol ship sunk at a depth of 45 meters south of Gili Air remind us of this period.
The first settlement of the islands began in the 1970s, when fresh water was discovered on the island of Gili Air. Until that time, the islands were a wildlife reservation (well, apart from the Japanese presence, of course). At that time, fishermen began making stops on the island of Air, since the sea around the archipelago was rich in fish, and on Air there was fresh water. In 1971, plantations began to be cultivated on the islands, and the land was given into the ownership of firms. The first settlers were a prisoner in the prison of the city of Mataram, which were involved in work on plantations. Many of them subsequently remained to live on the islands of Gili.
The first tourists began to appear on Gili in 1980, along with the growing popularity of the island of Bali as a resort destination. The infrastructure of the islands began to change, reacting to the tourist market and this was quickly realized by the government and corporations in whose hands were the rights to land. Because of this, disputes and conflicts with the inhabitants of the islands regularly arose. Several times the houses and buildings of the local population were completely demolished, which were quickly restored by the residents. This debate continues to this day, sometimes flashing, then fading away.
In the late 1990s, Gili Trawangan became known as a party island due to the lack of police and available drugs. And Gili Air has become popular among divers because of the huge opportunities for diving and the beautiful underwater world. Since 2005, regular water links with Bali began. Currently, the tourist infrastructure of the Gili Islands continues to develop.
How to get to the Gili Islands from Bali
There are several ways to get to the Gili Islands from Bali. The most popular and convenient way is fastboat (speedboat) from the island of Bali. We will consider it as the most convenient and fast. Other methods will also be mentioned, but briefly.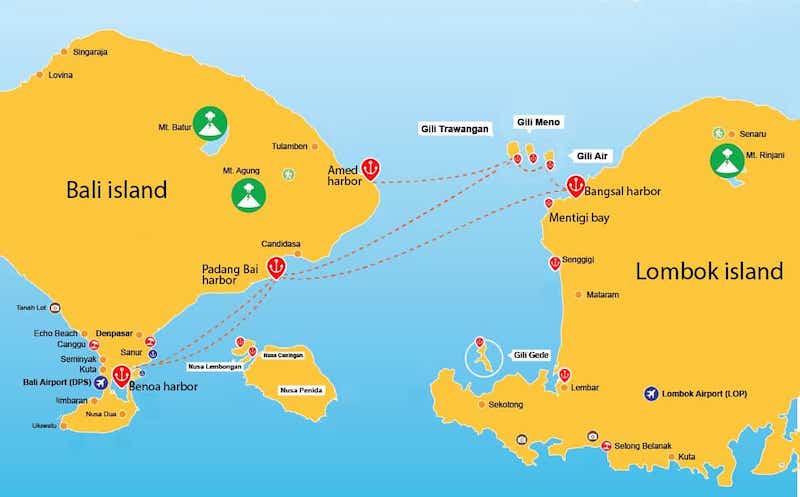 Fast boat
A fast boat is a lightweight motor boat that is designed to carry people and luggage. In Bali itself there are three ports where boats go to Gili: Amed, Padang Bai and Benoa. The largest port is Padang Bai. In addition to fast boats, there is a large and slow regular ferry boat, we will talk about it separately.
If you have a bike, you can go to Padang, take a ticket at the box office for the next fast boat and go to Gili. This method is fraught with some difficulties (although we did just that) and that's why. The road to Padang Bay is long and dangerous, it will take a lot of time and energy. In the parking lot near the marina, you will immediately be surrounded by a crowd of muddy personalities who will vying to offer their services and try to confuse you in order to lead you. If this is your first time at the pier, it will be difficult to navigate. A fastboat ticket can cost anywhere from 400,000 rupees, but we bargained to 250,000 round trip.
The most convenient way is to buy a fast boat ticket with a transfer. You will be picked up right from the hotel, taken to the marina and taken back to your hotel upon your return to Bali. In this case, you are spared the need to independently overcome a hundred-odd kilometers along the hellish Balinese roads. You do not need to look for parking, look for tickets and worry about something. There will be more time and effort to enjoy the trip and the beautiful islands.
Fastbot tickets with transfers cost from $ 30 round trip. You can buy them online at this link. You should be aware that there are several carriers and they offer a different fleet of boats. Wahana Gili Ocean is cheaper than Eka Jaya, but at Eka Jaya the boat is larger and it does not shake so much in the waves. If you are easily sickled, then you should consider this option. A fast boat from Bali to Gili takes about 1 hour 30 minutes.
This offer is actually awesome, as it will only be cheaper to drive on your own, but a bike ride will take a lot of energy, and a taxi to Padang will cost more than 200,000 rupees one way.
A fast boat will take you to Trawangan or Air. If you want to get to Gili Meno, you should transfer to a boat that regularly runs between the three islands (the price is around 30,000 rupees).
It should also be remembered that tickets can be with a fixed or open return date. This must be obtained from the carrier. To fix the date, you need to come to the office of the carrier company before 2 days. Offices are on Air and Trawangan and are located right next to the pier. Find them easily, and if there are difficulties, then ask any local.
IMPORTANT! Upon returning to Bali, in the port, local bumpers will most likely come up to you and say that your bus is broken / burned / late and the transfer is canceled. These people may show some documents in Indonesian and be presented by company employees. They may even take your transfer ticket to check and not return. Their goal is to put you on a paid taxi and get money from you. Do not listen to them, do not give a ticket and do not succumb to provocations. A warning about this is even on the carrier's website. Do not follow them and do not get fooled by their divorce. Your transfer has already been paid for, and you just need to find the parking place for your company's bus and get to the hotel safely.
Ferry
This path is more difficult, longer, cheaper and allows you to explore the island of Lombok on your own bike along the way. Maybe some day I will change my mind, but it seemed to me that Lombok is not the safest place in the world. The island of Bali is not an ideal of security, but Lombok is much worse. So, from the port of Padang Bay to Bali, there is regular ferry service to Lombok Island. Be careful, the ferry does not go to the Gili Islands, but approaches the port of Lembar (Lombok island). The ferry from Bali to Lombok takes about 5 hours.
The trick of the ferry is that you can take your bike with you and upon arrival in Lembar, you will need to travel north for about 60 km to the port of Bangsal. There you will have to leave the bike in a paid parking lot and transfer to another small ferry that will take you to Gili for 15K rupees. You can combine a visit to the Gili Islands with a tour of Lombok. But be careful, because Lombok is populated by other Indonesians who are not like Balinese.
A ferry from Bali to Lombok runs every hour around the clock and costs 120,000 Indonesian rupees for two people and a bike.
Gili Trawangan Island
Trawangan is the largest island of the Gili triad. It is much higher than its counterparts – it rises 30 meters above sea level. Three kilometers long and two wide, Travangan is constantly inhabited by 1,500 people. Trawangan comes from the Indonesian Terowangan, which means "tunnel". The island received this name because of the tunnel in the rock, which the Japanese built during the Second World War.
Gili Trawangan has the most developed tourist infrastructure of the entire three islands. Hotels, restaurants, pubs, diving centers – all this is on Gili Trawangan. It is this island that has gained fame as an island of parties. The beaches on Trawangan are not very good, mostly they either have a rocky bottom or are strewn with pieces of coral. Diving is well developed, as there are many interesting underwater spots around the island.
Motor transport is prohibited on Gili Trawangan, as well as on other neighboring islands. Only bicycles and horse-drawn carts. This is done in order to protect the unique ecosystem of the islands and preserve the natural wealth for future generations. English Wikipedia reports that before the first settlers of the island – fishermen, on the island of Gili Trawangan there was a forest in which deer were found.
The economy of Trawangan, like its two younger brothers, is entirely based on tourism. I got the impression that if it weren't for the tourists from Bali, there wouldn't be any local residents in this place and the Gili Islands would be uninhabited.
Drugs
Since the early 1980s, Gili Trawangan has gained a reputation as a destination for drag tourism. This was due to the availability of soft drugs on the island and the almost complete absence of police. Psilocybin mushrooms are openly advertised in many establishments, and in addition, some other heavier substances have been noticed on Trawangan. It should be remembered that although there are no police on the islands, Indonesia's drug laws are very harsh. For storage may be the death penalty.
Although the drugs first appeared on Gili Trawangan, today psilocybin mushrooms can be easily bought on the other two islands. Especially on Gili Air. The nearest police station is on Lombok Island, and the weak influence of the administration is noticeable only on Gili Trawangan.
! Despite the availability of psychedelics, you may not encounter them at all when visiting the islands. The Gili Islands are full of places where you can spend time: restaurants, cafes, beaches, diving centers. The culture of the island is not based only on mushrooms. Everyone finds what he is looking for. The eastern and southeastern parts of the island are considered quiet, there are no noisy bars and parties.
Gili Meno Island
Gili Meno Island is average in the top three. The population of approximately 500 people who work in the tourism sector and farming. Gili Meno is the most peaceful island. There are much fewer tourists on Meno, there are almost noisy bars and discos. Gili Meno is chosen for a family holiday or honeymoon.
Many who have stayed at Gili Meno report that at night the music from the neighboring island of Trawangan parties plays very loudly. Sound waves propagate freely over the expanse of water and reach neighboring islands. Keep this in mind if you are planning a honeymoon at Gili Meno)
On this island, any motor vehicle is also completely absent. Only bicycles, and horse drawn carts. If you arrived on the island with luggage, then the locals will help deliver it to the hotel for a symbolic price. Or you can rent a bike yourself and load luggage on it, drive it to the hotel. This is usually what those who want to save do.
Gili Meno around the perimeter is literally all surrounded by good beaches with fine clean sand, and there is a colony of turtles near Meno.
Gili Air Island
Gili Air is the smallest island, it is closest to Lombok. Gili Air is chosen by those who value silence and calm. The population of the island is approximately 1,800 people. Air from Indonesia means "water" and reads as Air ([aˈjɛr]), not Air, as Europeans and Russians copy them.
Gili Air can offer chic snorkeling, diving and other water activities. Near the island there is a colony of turtles and a coral reef. Gili Air also boasts a kitesurfing school, Indonesian courses and the ability to continue traveling by sea to almost anywhere in Indonesia. There is even a gym on Gili Air.
In general, Air is more calm and quiet, although there are also bars and parties here, but they have a slightly different character. Especially quiet are the northern beaches, they are removed from the main streets and the pier. There is no motor transport on Gili Air, and you can find magic mushrooms on the menu.
Accommodation on Gili
To book accommodation in advance or to search upon arrival is up to you. It always makes sense to book in advance if you plan to visit the islands on holidays, weekends or in high season. Perhaps it is worth booking not only expensive hotels, but also popular guesthouses and Cos, which have a good location or popularity among backpackers. Booking will be a guarante, because they can be fully occupied on peak days. Below is a map with most hotels and guesthouses available. The map is clickable, by clicking on it you can see the prices.
Housing on the Gili Islands is not a problem. You can search on the spot upon arrival, but if you are looking for something really worth the good money, it is best to book at Bucking. At least you can read reviews and draw conclusions. On the Gili Islands there are expensive 4 star luxury hotels, which are mainly located on the island of Trawangan. There are nice villas and affordable guesthouses. Mostly housing on the islands is fully tourist oriented. The averaged portrait of a hotel on the islands is a complex of detached villas or bungalows with a communal pool in the center and a cafe at the hotel. The average price for a good guesthouse is 120,000 rupees for a double room.
Sites where you can book accommodation on the Gili Islands:
Airbnb – rental housing from the owners, upon registration there will be a bonus of 2100 rubles
Booking.com – the largest housing portal with thousands of real reviews.
Agoda – hotels place promotions and discounts here
Roomguru – searches for all possible resources and issues the lowest prices
Housing in Bali. Where to settle and how much does it cost?
Things to do on the Gili Islands
There are a lot of opportunities on the Gili Islands to have an active and interesting time. Most of them are related to diving and sea. Even if you don't really like scuba gear or have an immersion phobia, you can go snorkeling. The water area of ​​the islands is rich in wildlife and vegetation, and the water is crystal clear. Be sure to get to know the underwater world more closely, because Gili is one of the few places in the world where you can do it. I saw a similarly beautiful underwater picture on the islands of Phi Phi in Thailand.
If you like diving, then around the islands you will find dozens of spots, and on the islands themselves you will be met by a variety of diving centers and schools. One of the features of this region is that the water area of ​​the islands is a reserve of turtles, which you can find everywhere in the immediate vicinity of the coast.
In addition to turtles, there are several interesting underwater attractions that are really worth seeing. For example, this is an underwater statue, which is located near the island of Gili Meno. It is called Nest or Nest.
And there are old scooters and bicycles installed at the bottom, with which you can arrange an underwater photo shoot. There is a legend that these are Japanese scooters that have remained since the Japanese occupation of the Gili Islands.
In addition to diving and all kinds of water activity, the islands have schools of yoga, dancing, cooking and many, many interesting things that will allow you to study the local culture or learn something new. As already mentioned, the Gili Islands are a place where everyone will find what he is looking for.
If you are looking for beautiful, wildlife and a lesser presence of civilization, it would be better to go to the island of Nusa Penida. It is even closer to Bali than the Gili Islands. Nusa Penida is almost a reserve with wild beaches and stunning natural attractions with an almost complete absence of people.